SCREENING: DEEPWATER HORIZON
Members with their Adult guests are invited to attend a Confirmed Seating Preview Screening of: DEEPWATER HORIZON from Allied Integrated Marketing.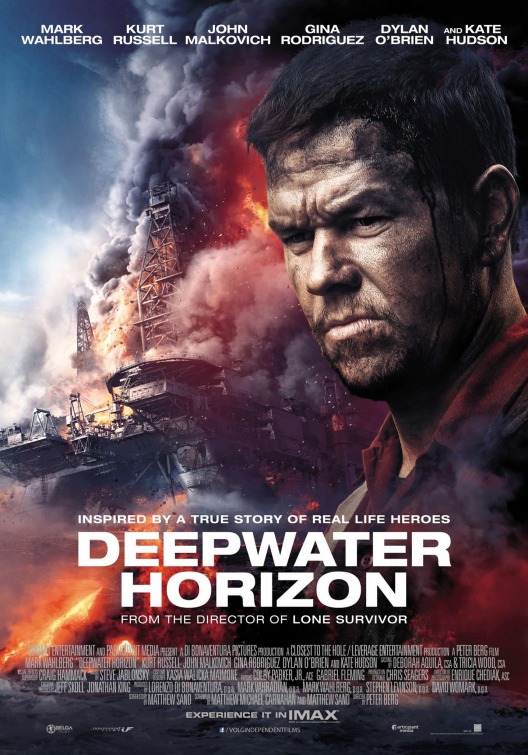 This invitation is Non-Transferable.
Please send an email request to Phyllis Bishop: pbscreenings@gmail.com. Include your full name, your guest's full name, your membership number. You must answer ALL emails from Phyllis Bishop to attend these screenings.
Date: Wednesday September 21st.
Arrival Time: 6:00 p.m. sharp for the 7:00 p.m. Screening
Cinema: Regal-Ewalk Cinema 42nd Street
Address: 247 W. 42nd Street. (off 8th Avenue next to Starbucks, on the C and E Subway Lines.)
Check in: Check in with Phyllis Bishop at the lobby desk inside the Cinema.
NOTE: Absolutely no recording devices will be allowed in the theatre. There is no admittance after the film begins. Please be advised that all bags and/or purses are subject to search and that theater will be subject to anti-film piracy, night vision security, surveillance.
Review Embargo: By attending this screening, you agree to hold all print, online, radio and television reviews, until the film's release date. This includes posting any social media reactions/reviews to Twitter or Facebook and blog postings.
Director: Peter Berg
Writers: Matthew Michael Carnahan (screenplay), Matthew Sand (screenplay)
Stars: Dylan O'Brien, Mark Wahlberg, Kate Hudson, John Malkovitz
Synopsis: A story set on the offshore drilling rig Deepwater Horizon, which exploded during April 2010 and created the worst oil spill in U.S. history.
Genre: Action Drama Thriller
Motion Picture Rating (MPAA): Rated PG-13 for prolonged intense disaster sequences and related disturbing images, and brief strong language.
Runtime: 107 Mins.
Release Date: September 30th.