FILM SCREENING: SAUSAGE PARTY
Members and one Adult guest are invited to attend a Very Limited, Confirmed Seating Pre Screening Reception and Preview Screening of SAUSAGE PARTY from COLUMBIA PICTURES.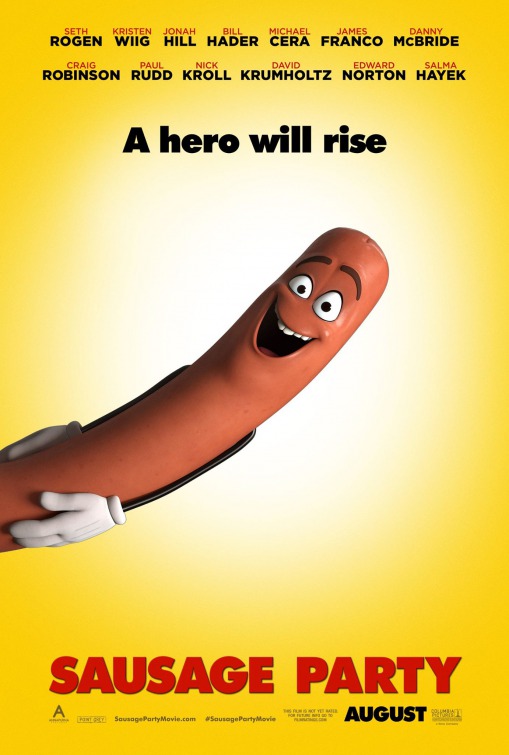 This invitation is Non-Transferable.
Please send an email request to Phyllis Bishop: pbscreenings@gmail.com with your full name, your guest's full names, your membership number. You must answer ALL emails from Phyllis Bishop to attend these screenings.
Date: Tuesday August 9th
Arrival Time: 5:50 p.m.sharp for a 6:00pm Pre Screening Reception and 7pm Screening
Cinema: CINEPOLIS Cinema (Formerly called Chelsea Cinema)
Address: 260 W. 23rd Street. (between 7th & 8th Avenues on the C and E Subway Lines.)
Check in: Check In with Phyllis Bishop outside the Cinema.
Columbia will handle check in at the Lobby Screening Preview Desk.
NOTE: Absolutely no recording devices will be allowed in the theatre. There is no admittance after the film begins. Please be advised that all bags and/or purses are subject to search and that theater will be subject to anti-film piracy, night vision security, surveillance.
Review Embargo: By attending this screening, you agree to hold all print, online, radio and television reviews, until the film's release date. This includes posting any social media reactions/reviews to Twitter or Facebook and blog postings.
Directors: Greg Tiernan, Conrad Vernon
Writers: Kyle Hunter (screenplay), Ariel Shaffir (screenplay)
Stars: Seth Rogen, Kristen Wiig, Jonah Hill
Synopsis: An animated movie about one sausage's quest to discover the truth about his existence.
Genre: Animation, Adventure, Comedy
Sound Mix: Dolby Digital Dolby Atmos Auro 11.1 Dolby Surround 7.1 12-Track Digital Sound DTS
Runtime: 1 hour 29 mins.
RATED: MPAA: Rated R for strong crude sexual content, pervasive language, and drug use,
Release Date: August 12th, 2016.